I was excited to learn today that I, apparently, had Polish relatives—including a business magnate and engineer named Delbert Akella! My chaste, brahmanical ancestors must be rolling in their proverbial graves upon hearing of this! But, upon reading the letter a little more carefully, I was a little disappointed (and, might I add, my ancestors were likely relieved) that I couldn't figure out if good 'ole Delbert was of Polish origin or another Akella who had immigrated to Poland and made good.
But, as a fellow entrepreneur, I was sure glad that he had made out… because he had left a chunk of change for his Akella brethren. €8.9M, to be specific.
Or, so the kind Mr. Robin Mars from RobMars Management apologetically informs me in a letter—interestingly mailed from France, marked confidential, and for my eyes only!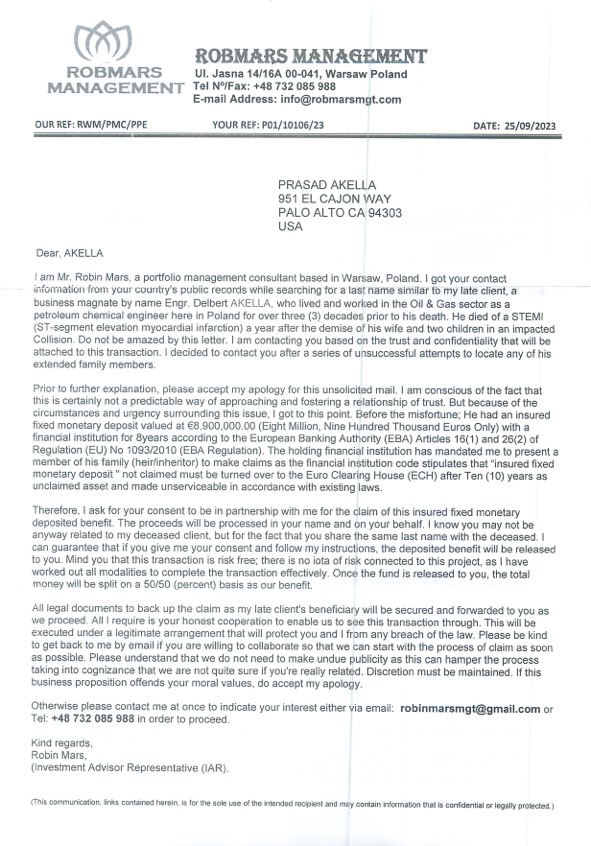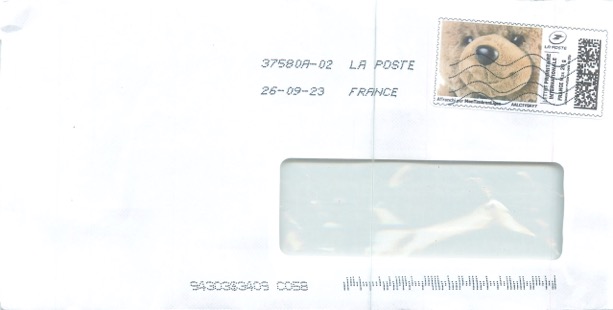 All excited, I chose to do a little homework. And learned a lot about what was clearly a scam.
"Delbert Akella", especially if he is the business mandate he is said to be, doesn't exist
RobMars Management exists! But, WoT warns me that it has no information on the site. The domain is owned by someone hiding behind a registration service based in Reykjavik, Iceland!
The BBC reports that businesses like RobMar Management are immensely successful. Reading the article takes be back in time to my days at Spoke and Cydelity combined…

They are "legitimate" companies, with headquarters and offices in different parts of the world. Check out the building from which Mr. Mars wrote to me. Fancy!
The are organized like any other company, with an opaque leadership team, a functional structure that would seem utterly normal to any of us
Their sales departments, which pick "leads" like me, function with daily call targets and quotas
They even have HR departments to handle the employees!
(And, I'd guess, a serious legal team to keep the principals out of jail… leaving the poor junior schmucks, the foot soldiers, to fend for themselves when the sh*t hit the fan—as we saw reported in Sudhir Venkatesh's "Gang leader for a day" about the drug business)
They are seriously successful billion dollar operations!
I can't help be impressed with Mr. Mars' audacity. And, feeling sad for the folks whom they manage to sucker.
But, I have to close with a BIG request: Will the real Engr. Delbert Akella please call me directly? I'd love to explore the family tree with you!